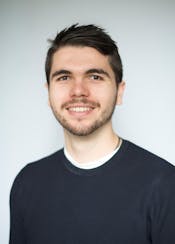 Alex is a senior associate who enjoys consulting high growth tech businesses on the talent ecosystem. He's particularly interested in deep tech and keeping up to date with market trends. This is coupled with a clear passion for languages. Alex speaks English, Armenian, Russian, Spanish and Portuguese!
At the moment, he is facing the complexities of German with unparalleled composure ever since he moved to Berlin to help establish our office there.

The number of languages you speak is impressive, Alex. How did it happen?
(humble smile) My mum is Armenian and my dad is English, so I grew up bilingual. I studied French and Spanish at school, and I majored in Spanish and Russian at university. I guess I was always interested in the history and culture of Russia given my family's connection to the region. After university, I spent some time in Brazil and learned Portuguese there. 
I took up German recently since it's very important to speak the language of the country you're in. I need to study harder, but I do get by. 
What made you choose a career in executive search, and not, for example, in translation or language teaching?
I didn't want to teach or become a translator. I was always drawn to small businesses and the impact they have on the world - I came across the start-up world that way. To be honest, I didn't know anything about search at university, but when I discovered it, I thought it would provide me with a sound understanding of how businesses work and the opportunity to work for impactful organisations.
And why did you decide to move to Berlin? 
Through my studies and interests, I've always been quite passionate about different cultures and working styles, so I knew I didn't want to spend all my life in London. As a person, I wanted to move and also as a business, I felt it made sense for us to expand to Berlin. We were partnering with so many German clients and we wanted people on the ground. In theory, you can work with German clients from London but to create a strong network full of meaningful connections, being on the ground is very helpful. 
Being in Berlin means that I can host events and become an active member of the ecosystem. From Berlin, we'll do more work in CEE.  Being close is very important. 
In addition, the Berlin ecosystem is quite exciting, and it's home to so many things that I'm interested in such as Climate tech, Web3, and Adtech. What's also helpful is having the wider Founders Forum Group here too. 
How did you find the Berlin ecosystem to be different from the one in London?
London has a lot to offer, and it is a major tech hub in Europe. It depends on how you slice and dice the ecosystem. Particularly post Brexit, Berlin has a good opportunity. Personally, I found the Berlin ecosystem to be accommodating, and people have been quite approachable and happy to introduce me to other founders and investors, but I'm very positive about both ecosystems.  
After 4 years at Founders Keepers, what's a piece of advice you would give yourself on day one?
The tech space moves so fast, and you always have to be up to date with trends in the market. I did get good advice from our founders on this when I joined. Time only proved this to be true. The more informed I became about the industry, the more I was able to consult the people I work with. Another thing that brings me a great deal of satisfaction is making personal connections with my contacts, which I'm glad I did from the beginning. 
Which companies are you keeping an eye on?
It depends on what industries we're talking about. Personally, I'm drawn towards early stage companies especially in Adtech and Foodtech. Hier Foods and Choco are really interesting companies. Plan A is another one to consider given the existential crises we're facing. 
The other area is Web3. There's so much happening there. For example, IOV Labs, which is democratising access to financial opportunity, has a fantastic mission. The potential in each of these industries is fascinating.
If you could go back in time and invest in one company, which one would it be?
The ones that would have made me the most money (laughs)! I'd say UiPath; it has an interesting story coming out of Eastern and Central Europe. It was built in a sustainable way, and became a real leader in its space. I think the team there has done an amazing job, and I have always had great experiences with the people who work there. 
It's a known fact at Founders Keepers that you're the person for B2B projects. What do you enjoy most about this space?
Sometimes these projects are more challenging, and that's exactly why I became slightly more drawn to them. Personally, I feel all the consumer businesses are built off the back of a B2B product. In B2B, it's often that the business model is more varied and interesting. I do enjoy the consumer side of the business, but I think that B2B is unfairly tarnished with that "unsexy" label.
You have a demanding job, Alex. What's an efficiency hack you swear by?
My big efficiency hack is "Slack anything you can Slack." You don't have to have meetings especially if you're in the same room. Slack is a great tool and I'm also very big on Notion, but I make sure to turn off notifications for Slack and email, so I don't get distracted all the time. 
One thing I'd like to do is block out my diary more often. That's more like a New Year's resolution for me.
Fantastic! What other resolutions have you made this year?
Staying closer to my network, getting fitter, and definitely learning more German.
And for fun? 
I like playing sports. I play tennis, and there are a couple of options near our office, but tennis doesn't lend itself to the Berlin winter so well. I'm still relatively new here and there's a lot to explore. Humboldhain is a pleasure to walk through. I also really like the lakes on the outskirts; Wansee is a particularly nice one and I intend to see more.
I'm also a foodie - which is useful because Berlin's bars and restaurants are incredible. I'm a big fan of the Kreuzberg district. Oh, and I'd definitely recommend the Markthalle in Moabit!

We're looking for more talented associates to join us. If you'd like to build relationships with the most exciting, mission-driven companies in tech find out more here.