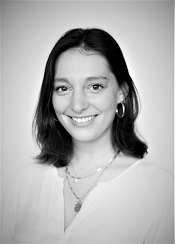 Alice joined Founders Keepers from a Financial Services search firm, where she focused on mid-level appointments within leading Venture Capital and Private Equity funds. Before that, Alice started her career working in outplacement assisting senior directors in career transition. 
We caught up with her to discuss what it takes to become a great Senior Associate at Founders Keepers.
What can you tell us about your professional journey?
I came out of uni with a degree in psychology, which I really loved. I thought about using it to go down the psychotherapy route, but I realised that I just wasn't passionate enough about it. Instead, I decided to pursue my interests in business.
I started my career working in outplacement. Essentially, that's helping senior directors with their career transitions. It was quite niche, but it was a great first role. It gave me office experience as well as insight into how businesses work and how leaders make decisions.
One of my tasks was actually to map out relevant headhunters that the consultants should speak to. That's how I was introduced to the world of headhunting. It became something that I was keen to explore. 
What was it like working in Financial Services?
I started off working for a search firm that specialises in Financial Services – an industry that I'd always found fascinating, and the role gave me the opportunity to learn so much about the industry. This is where I learned about the foundations of search and all the skills that come with it. 
Although I enjoyed the job, I wanted to move into executive search within a space that I was more passionate about, and have the opportunity to work with dynamic, innovative, scale-up companies.
How did you find the transition from mid-level search to executive search?
It was a bit daunting at the beginning. Mostly because I wasn't as familiar with the tech landscape. Imposter syndrome aside, the partners made it so clear at the beginning that I should just go for it. They didn't mind if I made mistakes. 
Generally speaking, the foundations and the skills you need for executive search, I gained from working in mid-level search. The FK team filled in the blanks. It didn't take long before I felt confident identifying top talent.
Why did you decide to work at FK? What makes it special?
After my first meeting, I thought "Yep, I want to work there". I came to the office and met amazing people who I connected with on a personal level. I really aligned with their values, and they were super passionate about the companies they work with - these tech-driven companies that could change the world! 
I was also taken aback by the ecosystem FK is a part of. Being so closely linked with Founders Forum is a big plus. We sit in the same offices as a VC fund, an accelerator and incubator, a management consulting firm, and so many other cool companies. We're entrenched in this environment which is so inspiring and full of amazing people.
Could you tell us more about your role at Founders Keepers?
I'm a Senior Associate, so I have quite a broad role. I'll partner with one of the directors or partners, and lead on the execution and search delivery. I think about our strategy while executing on the mapping, identification, and qualification of candidates within target companies. Alongside and in conjunction with that, I build out my network in relation to the individuals we are identifying. I will take candidates through the interview process and journey, but also build these long-standing relationships. That way, I'm constantly building out my network which comes into play each time we kick off a new search.
From day one you have a huge amount of exposure to clients. Unlike a lot of search firms, FK associates are very involved right from the beginning and all the way to the end. Alongside the Client Lead, we're present on all the client calls as well as liaising with candidates too. We get full end-to-end exposure.
What kind of searches are your favourite? 
I don't think my favourite searches are always going to be the ones that we place in record time. Those aren't the most satisfying to me. It's the challenging searches that I love - the ones I can really sink my teeth into. 
A memorable one for me would be Otrium - an online fashion marketplace based in Amsterdam. Clothing brands partner with Otrium to find a home for out of season items and leverage its tech platform to make the most out of commercial opportunities. Otrium recently announced $120m in Series C funding and its US launch. We placed their new Chief People Officer. 
It was easy to sell them as a business, but the bar was really high for who they wanted. When we found the right candidate, it was incredibly fulfilling. The Otrium team, their investors, and the candidate were delighted, as were Sim and I! 
What are the most used apps on your phone?
There are three that I use in unison:
Whatsapp - It's the way I stay in touch with more or less everyone I know! 
Citymapper - I'm always travelling around, going to different places, and seeing people in different parts of London. Especially since things have opened up.
Spotify - I don't leave the house without listening to music or podcasts.
Which company are you keeping an eye on?
Pangaia - They're paving the way for this huge focus on sustainability and the environment.
Not only are they a D2C brand but are also building out a B2B platform that's helping the wider fashion industry incorporate more sustainable materials into their offerings - that's going to have such a positive impact on the world.
Are there any tips you'd like to share with anyone considering a similar career path?
Make sure that the company and the team's values are aligned with yours. I wouldn't be as happy here if that wasn't the case.
Here's the real crux of it: work with people who you can learn from and that inspire you. Make sure that's there before you join a company. 
We're looking for more talented associates to join us. If you'd like to build relationships with the most exciting, mission-driven companies in tech find out more here.