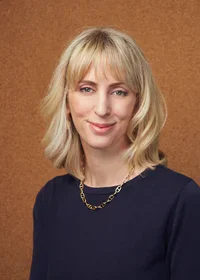 With over ten years of executive search experience, Lucy has worked with FTSE listed and VC-backed brands to find NED and C-suite executives. Now Lucy uses her expertise as a Director in our London office.
You are, without a doubt, one of the most efficient and meticulous people I know. How does that translate to your day-to-day work?
I'm not sure that's true but thank you! We're in a client service business, so being detail-oriented is important. Especially when you're juggling so many different things - you really have to be organised. 
Although, to paraphrase Mike Tyson, "Everyone has a plan until they get punched in the face". We all have days that feel too reactive. The first trick is to recognise what needs doing and what needs doing now. The next is being strict with the time at your disposal.
You have a unique role at FK. Could you tell us about your internal responsibilities?
Well, to boil it down, I help look out for our analysts and associates. That includes a weekly one-on-one 'check-in' on how everyone is, helping with work loading and making sure they have the right amount on their plates. We have so many amazing searches coming in, but we don't want the team feeling swamped!
While I encourage them to make the most of their strengths, like all that great subject knowledge, I also contribute to their learning and development. To do that properly means getting to know everyone on a professional and personal level. That way, when it comes to bi-annual reviews, I have a complete picture of their progress and goals.
I absolutely love that Founders Keepers is a place where this is possible. It's the kind of environment where people feel supported to do their best work.
It must be challenging to maintain that culture, especially as we grow. What's FK's approach?
It's definitely not easy. As a business, we're trying to figure out the best way to drive efficiency as we scale without losing what makes us unique. It's something Lizzie and I are incredibly passionate about, and protecting what people joined FK for is very important to us.
Something we've found really useful is regular 1:1s with everyone. Having check-ins just to understand how people are doing and reminding them that they can come to us with any issue has been invaluable.
The past couple of years have been tough and have impacted people in ways that aren't always visible. The team has been brilliant though; they're so adaptable and everyone pulled together. Everyone just dug in and worked really hard, and it paid off - we had our most successful year during the pandemic. 
I'm in awe of all the people who joined us during this time - it takes a lot of resilience. The least I can do is make them feel at home. From experience, the FK onboarding is lovely. And that's true for both graduates and experienced hires. Inevitably, there are pressure points during a search and tough periods, but we care about the team having a good work/life balance. On a personal level, as a working mother, this has been amazing for me. There are a lot of people in the team who have children, and everyone understands the challenges that come with having external responsibilities whatever they may be. 
How do you stay on top of all this while working on searches?
I like multitasking! Working in a competitive, fast-moving industry is exhilarating but can also get overwhelming. Having the support of a great team and being mindful of what everyone else has on their plate makes a difference. Like our founders, Ric and Lizzie, often say "Search is a team sport".
Quickfire
What's the most used app on your phone?
Aside from WhatsApp, probably Citymapper & BBC News. I'm not on social media; I'm now addicted to scrolling through news apps.
What was the last book you read?
Educated by Tara Westover. It's brutal but inspiring.
What excites you about high growth/tech-led?
The pace, it's astonishing. A business can spring up from two brilliant people in a room trying to fix a problem and can turn into something huge. 
Which companies are you keeping an eye on?
Unmind and Bombas - I love mission-driven businesses. Post-Covid we've seen a real interest from candidates to work in companies that are 'doing well but doing good'.  
If you could go back in time and invest in one company, which one would it be?
Airbnb; just two friends turning their sitting room into a bed and breakfast…
Are you a senior executive search consultant looking for career growth opportunities? If so, we're looking for more directors - find out more here.