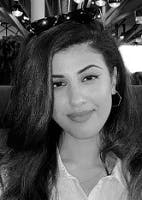 Sumaira Baig, a graduate of law from the London School of Economics and Political Science, recently joined Founders Keepers as a Knowledge Analyst. We caught up with Sumaira on why she chose executive search.
What can you tell us about your professional journey?
I've always been set on a law degree from very early on in life. In Year 9, my history teacher (a former solicitor) told me that I already had many of the skills and characteristics. I was detail orientated, diligent, and was really interested in the commercial world. Working within the legal field felt like the natural choice. Then at A-level, I got the chance to study the academic side of law and I loved it! Particularly its methodical nature and how it permeates society. 
At Uni, I got to experience the commercial side of law. As an LSE student, I also benefitted from great exposure to the investment banks, management consultancies, and law firms that would often be on campus.
So, how does a law grad end up in tech & executive search?
At Uni, I studied IT law and really enjoyed learning about some of the pressing challenges in the industry like data protection and cyber security – it's an exciting space. I also felt like I'd benefit from a deeper understanding of the commercial world. 
After applying for a few roles inside the tech ecosystem, I was contacted by a recruiter about an executive assistant role at a Prop-tech start-up. It wasn't right for me, but I found researching the start-up super interesting. Shortly after that, the same recruiter told me of the Analyst position at Founders Keepers. I soon realised that FK operates right at the heart of this world.
Why did you decide to work at FK and what makes it special?
Well, in my first interview I met Lizzie Segal and Lucy Broer and I thought "Wow, they are genuinely nice people that would be fun to work with". Then I met Ric Segal and Hannah French, who I was equally impressed by. The conversations we had felt natural and my values were well aligned with those of the team. Especially promoting diversity and inclusion, and a genuine excitement for the start-up space.
Founders Keepers sits within Founders Forum, which means FK has access to loads of amazing companies and start-ups doing cool things. As an analyst, I'd be given the chance to do something that I'd never thought of before.
So, when I was offered the job I readily accepted. Since then, I've learnt so much about the commercial world and have had great opportunities to be creative, as well as having the autonomy to explore areas that interest me. During my time at FK, I've been spearheading company research and building a fundraising database. I'm learning so much about the different niches that early-stage businesses have capitalised on and how those companies make strategic decisions.
I'm amazed by how much I now know about the commercial world – it's great that the learning hasn't stopped after Uni and I'm really enjoying my role.
What do you like about executive search?
I'd not come across executive search before. But now that I'm working for Founders Keepers, it's clear that executive search is about collaborating with clients to find the right candidates to help their businesses grow. We're not just putting people in seats; we're establishing partnerships with exciting companies and building out their leadership teams.
Executive search firms regularly meet investors and sit down with C-suites to form a comprehensive overview of an organisation's business strategy and consider how the right candidate can accelerate that - it's collaborative. Furthermore, it puts me in the position of a trusted stakeholder and advisor to that business. It also offers great exposure to decision makers. I really didn't expect that at this stage in my career I'd have such exposure to founders and investors.
What excites you about high growth, tech led businesses?
I like the concept of creative destruction. Doing something in a new way and the innovative mindset that comes with it. Lots of these companies are looking for new ways to solve old problems while becoming profitable. 
I like that it can all start with an idea and then you can build a company around that idea as it propels itself forward. Lots of interesting things happen in that sort of environment that, as a result, can go on to shape society.
Which companies are you keeping an eye on?
Generation Home – I love that they're out to make mortgages affordable to first time buyers.
I'm also keeping an eye on lots of VCs, they're so active and influential in this ecosystem.
If you could go back in time and invest in one company, which one would it be?
Apple – At this point, they are not going to be bested by anyone.
Olaplex – A haircare brand that held its IPO at the end of September. They have patented technology that repairs damaged bleached hair – a smart move!
What's the most used app on your phone?
TikTok – I got into cooking over lockdown and TikTok is full of great recipes. It also has a brilliant UI and a huge variety of content!  
What was the last book you read? 
The Opposite of Loneliness by Maria Keegan
Marina Keegan, a new graduate from Yale, tragically died in a car crash five days after graduation. The book is a collection of short stories she wrote during her degree. 
It is less morbid and more a celebration of her writing. She talks a lot about the transition from Uni to the working world and how it can feel lonely at first. I get it because you've been in education your entire life then suddenly you're thrust into this new world. Very quickly you go from managing your own time to having a structured life – which can be quite overwhelming.
Are there any tips you'd like to share with other grads who might consider exploring a similar path?
Be open to all opportunities and explore all kinds of companies. There is loads of room for commercially minded people in tech-led businesses. 
For the recent grads out there, the tech ecosystem offers a good foundation for you to gain valuable knowledge that will definitely come in handy throughout your careers.
Are you a recent or soon to be graduate open to opportunities at Founders Keepers? If so, we're looking for more analysts - find out more here.