Despite widespread attempts to fast forward to 2021, we want to take a moment to pause and shout about some of the brilliant success stories from across the digital landscape this year. 
Many sectors have shown resilience; others have defied all odds and continued with their hyper growth trajectories. At Founders Keepers, we have relished being part of all of these journeys and have learnt a lot through our support of businesses across a variety of industries. We've collaborated on global searches across FinTech, SAAS, HealthTech, Blockchain, eCommerce, Charity and even the Travel industry has managed to keep us busy. 
None of this would have been possible without our team, who continue to go above and beyond for our clients. Read on for more about the growing CxO communities we've nurtured during lockdown. We've refined our process, and I'm proud to say we've hit new records in terms of time to close. For searches initiated in 2020, we average at 110 days from kick-off to candidate acceptance. 
We remain fully committed to improving diversity across our searches: in 2019/20, 44% of our placements were women, and we now aspire to a minimum 30% BAME candidate representation on every search we undertake. There's a lot still to be done, and we welcome sharing of best practice in this process. 
Below we've included a quick overview of the wonderful partners who we've collaborated with this year, an overview of the communities we're building and would love you to join, and lastly, some updates from our friends in the Founders Forum family.  
Thank you to all who have joined us on our journey this year. We look forward to working with you all again in 2021, and continuing with this positive momentum in the New Year as we embark on more exciting and impactful projects with partners old and new. 
Richard Segal - Co-Founder, Founders Keepers. 
Building the future with our partners: 
We love building the future, so we're excited to be working with companies that are doing just that while undergoing explosive paces of progress and innovation. Here is a selection, or read more about our clients here.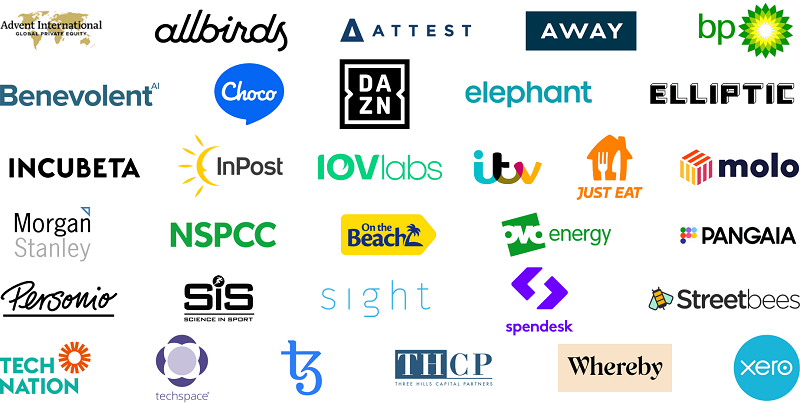 Adding value to our community
While nothing replaces meeting in person (I'm ever hopeful!), we've created a platform to bring our community together for highly engaging and informative events:
Chief People Officer Forum: Addressing the challenges of lockdown #1, we decided to launch the FK Chief People Officer Forum in March in order to provide a place for CPOs to share, listen and support one another. Led by CPO expert, Sim Lamb, our CPO Forum is now a growing community of 90+ top people leaders from some of the fastest growing companies in the world. The role of an impactful CPO has proved vital this year, as has this forum as a lifeline for people leaders navigating the turbulence that the pandemic has thrown their way. No doubt this gathering will continue to be an unprecedented success in 2021. 
If you are a CPO, apply to join our next gathering here.
CEO & MD Forum: Our popular CEO & MD Forums, led by Stephen Rosenthal, have continued online throughout lockdown, connecting senior leaders from the world's most dynamic businesses across sectors, geographies and asset classes. Most recently, we hosted Sophie Schmidt, Founder and CEO of Rest of World, as well as Martin Migoya, Founder and CEO of Globant, and look forward to continuing with this impressive roster in the new year. 
If you are a CEO or MD, apply to join our next forum here.
Mentor for Growth: In the spirit of strengthening our ecosystem and adding value for our clients, this year we launched and are facilitating the 2020 cohort of the Mentor for Growth programme: a cross company, cross-skill mentor programme set up by Annabel Jack, CCO made.com. 160 mentors and mentees from 15 leading digital companies joined the programme which runs until June 2021. Mentees and mentors are uniquely matched by a part human, part automated process through The Network Lab - a specialist people analytics platform that enables employees and organisations to build stronger and more diverse networks. 
Get in touch here to register your interest in joining the 2021 cohort. 
To learn more about these events or any of our thought leadership pieces, you'll find a range of interviews and articles on the Networking & Content page of our website.
Founders Family
firstminute Capital has announced its second early-stage venture fund of $111 million (£87 million). This new fund comes after the first fund of $100 million, giving firstminute $211 million in assets under management, investing across Europe and the U.S. at the seed stage.
Founders Intelligence released a whitepaper on how a wholesale convergence of Strategy, Innovation and Sustainability teams can simultaneously meet ambitious targets for growth and environmental impact. It draws on lessons from working with many corporates leading in this space, including BP and Unilever most recently. If that's up your street, check out their monthly newsletter for 🤯 tech industry and innovation insights.
accelerateHER has launched a number of virtual events as part of their new online series aH LIVE, from Office Hours and Pitch Competitions for diverse women entrepreneurs to large-scale global summits including launching in two new territories: Asia and Africa. This year accelerateHER has featured 105+ speakers (including Hillary Clinton!) and represented companies such as Nextdoor, Biocon, Stitch Fix, Zilingo, Darktrace and many more. The aH community has grown 17 times in 2020 and will be offering its growing membership a community and content site to connect and nurture women globally in business and tech year round (launching early 2021). 
Founders Forum has launched a number of online events as part of their new digital series FF Live, from digital roundtables to intimate fireside chats with headline-hitting founders to help navigate our rapidly changing world. Driven by a roster of ground-breaking entrepreneurs and ambitious CEO's the series features 80+ speakers representing companies such as 23&Me, OakNorth, Softbank, Babylon Health, Ocado, Impossible Foods and The Hut Group. 
Grip has had a brilliant year with the world of online events and has grown to a team of 40+. 
Founders Pledge - the Pledge community has grown to 1,500 incredible members who together have pledged over $3.2 billion to charitable causes and donated $480 million! Founders Pledge has also launched two exciting new Funds - a Global Health and Development Fund and a Climate Fund - to help its members and the public join forces to tackle these vast global issues.
Wishing you a restful festive period and a happy, healthy and successful 2021!