Growth Chair Circle | Featuring Phillip Riese - Chair, Flywire & Board Member, Monzo
28th May 2020
In our series on chairing growth companies, serial investor and consumer FinTech advisor Phillip Riese shares his insights on how to select companies to advise and chair, adapting your chairing style to adversity and how best to support founders and CEOs in this crisis.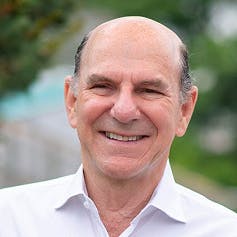 Phillip Riese - Chair, Flywire & Board Member, Monzo
Phillip spent more than 18 years at American Express, where he was president of the consumer cards division and chair of American Express Centurion Bank. Since leaving American Express, he's focused on co-investing in start-up and midsize companies that are potential leaders in providing disruptive financial services, advanced data analytics and next-generation marketing capabilities, serving on the boards of some and acting as an advisor to management in others.
Based between New York and London, today he's Chair of payments provider Flywire, having previously been non-executive Chair of Zopa, the world's first peer-to-peer lender, and Yoyo Wallet. He joined Monzo as a non-executive director in 2019 and sits on a range of scale-up boards including robo-advisor, Betterment, global remittance provider, Remitly, and travel provider, TravelPerk.
What motivates you to chair growth businesses?
Since leaving AmEx 20 years ago, I've established a network and hope I have earned a reputation for being a good board member and chairing growth businesses. I get approached about a company and when deciding if I'm going to sit on a start-up board I ask myself: is this business going to make my heart go pitter patter every day of my life? Is the business potentially world-changing? It should be in my head when I wake up in the morning if it's right. I want it to be on my mind because I'm excited by it. Sitting on any board is not just a job, you need to have passion for the business.
When someone calls me up I ask myself: Do I like the management team? Are they ethical and can I help them? Equally importantly: do they want my help? And somewhere down the line there should also be some economic upside.
I tend to be more helpful in financial services and consumer businesses, those that are rapidly scaling. I can bring advice when the board and management team need strong operational and analytical help. In particular I can advise on how to motivate people; provide leadership; develop people; attract people and make decisions on M&A.
How do you decide if you're the right fit to work with a Founder or CEO?
I can usually assess if a CEO is good for the business and chemistry is important. We all have our quirks, I can be quirky too!
One cannot expect to be compatible with everyone and you need to be compatible with the CEO. You may find some very good CEOs that are impossible to work well with. Some believe that they know everything about growth businesses and cannot see the value in a
sounding board or good advice from anyone, let alone me. Some see the business as their own fiefdom and are running it for themselves and not for the shareholders as a whole. There are also some who feel that the investment money they've raised correlates with personal ability and not the value of the business and the management team as a whole. Some CEOs are scared to be challenged, and even more scared of hiring people who are better than them. Some have never met great talent before and are happy with their team because they do not know what great is.
Sometimes the business simply needs a new CEO.
What advice would you give on running a board well?
Process inside and outside the boardroom is very important. Somebody once said a great meeting depends on having a well-defined outcome, the right content experts in the meeting and having the right process that allows the content experts to express themselves in an efficient way to get all the ideas out in the open, decisions made and implementation plans agreed to.
I think when people talk about good boards they focus on operating experts, industry experience and intellectual horsepower. They don't spend time on process and defining the rules of engagement. My belief is that the Chair's major responsibility is to make sure the process works extraordinarily well with everyone having agreed the agenda, read the papers, having defined outcomes, the right people in the meeting, the wrong people out and no excess baggage. Then the meeting starts with the Chair that the outcomes happen in the time allocated.
I think the Chair is not first amongst equals. The Chair is an equal to their fellow board members, but with the additional role of making the meeting efficient and effective.
How do you chair a board differently during a crisis?
Over my career, I've experienced many financial crises and tough trading cycles.
What makes a good board run well in good times is also how you get the board to work together in adversity. If you can't achieve the former, you certainly can't achieve the latter. A bad board isn't going to get better in a crisis.
You behave in the same way but data is scarcer, you have less time to make decisions and you can't necessarily get the whole board together. You have to assume not everyone's going to be there and you're not going to repeat the meeting three or four times. I'm a big believer in structured sub-committees to deal with specific problems, particularly in a crisis. You split out the areas that the board needs to tackle. I don't like the wartime analogy but you give some things to people with the skills to support the CEO, for example, and ensure you structure the board's approach to attack specific problems.
How does your working relationship with a founder or CEO alter in a crisis?
It depends completely on the CEO. There are CEOs who rise to the occasion and at the other end of the spectrum, there can be some who are startled and frankly don't know how to act.
You need to do a situational analysis of the CEO and engage with them differently. You can provide well prepared CEOs with advice and direction, by, for example, simply saying "you take this advice and put it into your system and decide what to do with it" That may be enough.
If a CEO is less experienced, you may need to be more directive and mildly cross the line from being a strategic and advisory chair to providing more executional direction to help them. Give them a short while, and they will likely rise to the occasion.
In both of those examples, in a crisis you engage more frequently. Tactics are different. What is most critical in a crisis is to make sure you're leaving the CEO enough time to act. Board members need to allow executives time to think, plan and execute. Executives shouldn't be distracted by the board from the job in hand of getting the business up and running.
What advice would you give to chairs to support their CEOs and leadership teams in this crisis?
A CEOs main challenge is that they have to worry about the well-being of their organisation in a completely unknown environment and they can't communicate in their standard leadership way. They have to discover how to keep people motivated in this totally different context: that's a big enough task. I'm impressed by how well the CEOs I work with are dealing with it.
As a board member, I'm spending a fair amount of time exchanging information between companies as we learn best practice and sharing that with our CEOs and People leaders. I'm not asking them what they're doing with it, just trying to allow them to benefit from others' experience.
Once you have made sure your people are safe, there are strategic problems on the ground and very different scenarios if the UK and the rest of the world goes back to work after three weeks, three months or a year. Survival of the company must come first. In an uncontrollable but temporary way, revenue may be drying up, sales and marketing efforts may be useless, and more. You have to bring down your expenses to provide a runway to the future. Perhaps you stop hiring, or perhaps you make redundancies or perhaps you close down certain activities or divisions completely. That's obviously very difficult if you have people at home with no other way of gaining alternative income.
It's doubly difficult when soon – we hope – the world may return to normal and you will need those wonderful people again.
There is so much uncertainty between scenarios and no data, so it's about helping CEOs be calm and making choices in the world of massively incomplete information, where speed is of the essence. Deciding to live with that choice is perhaps the most difficult thing right now, and the Board can and should help them get that comfort.
By and large my boards and CEOs are doing extraordinarily well and should be very proud of themselves.
Founders Keepers | Growth Board Advisory
If you want help bringing highly experienced leaders or new digital talent into your boardroom, we'd love to hear from you. Please get in touch on contact@founderskeepers.co and we'll get back to you shortly.