The State of European Tech | Janette Wiget & Brent Hoberman
9th December 2021
The Founders Forum Group invited leading innovators for after-work drinks and a fireside chat with Brent Hoberman, founder of two unicorns (lastminute.com & made.com) as well as the Founders Forum Family, and Janette Wiget, CFO of Merantix (the artificial intelligence venture studio).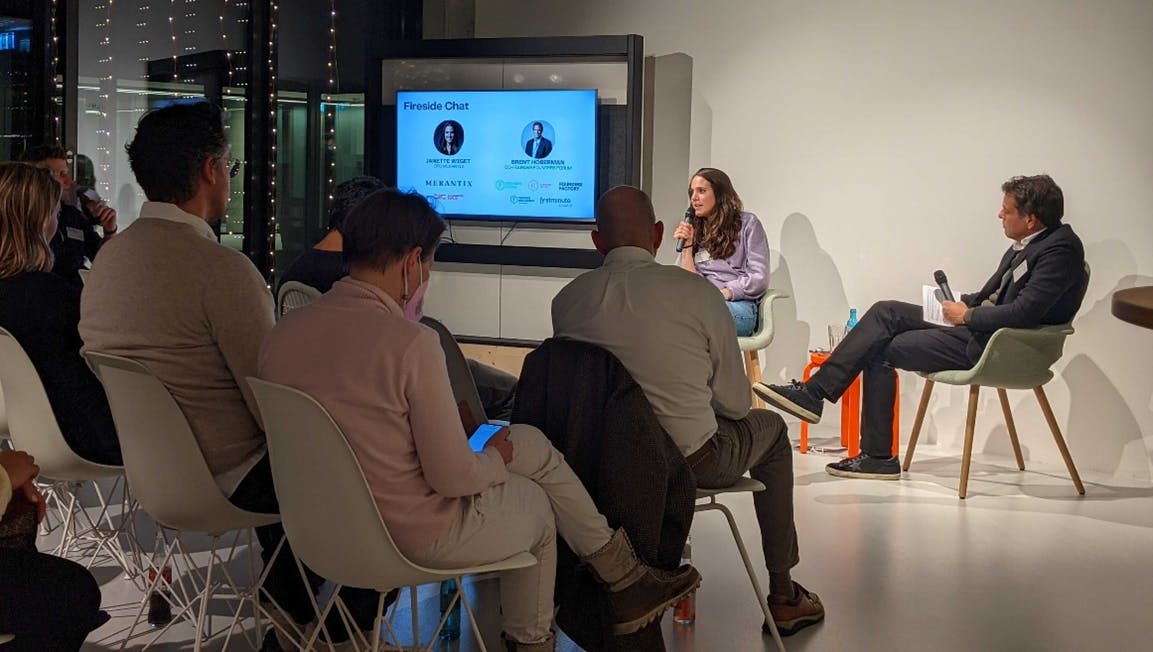 The Founders Forum Group invited leading innovators for after-work drinks and a fireside chat with Brent Hoberman, founder of two unicorns (lastminute.com & made.com) as well as the Founders Forum Family, and Janette Wiget, CFO of Merantix (the artificial intelligence venture studio). The chat took place at the AI Campus in Berlin where the two discussed the state of European tech; what is working and what could be better.
Twenty unicorns now call the city their home and over 120 start-ups have raised double-digit-million euro rounds in Berlin. The Berlin unicorns are witnessing an almost exponential curve, and we might be getting close to bridging the gap between Europe and bigger markets such as the US. This is partially thanks to capital, which is now easier to obtain than ever before, especially since global investors have recognised the incredible potential of European start-ups.
Here's a quick wrap-up of Brent and Janette's insights:
Europe and Berlin, in particular, have had a great decade. However, according to both Brent and Janette, things could be better.
Unfortunately, we still struggle with the friction that we create between geographies in Europe. The "Digital Single Market" is a wonderful idea, but one might wonder if it was a plan implemented by larger corporates who forgot to ask start-ups for their input.
The other disadvantage is regulations, which can go both ways. Some find that in Europe, we play to a regulatory advantage while the US plays to an innovation advantage. Data is particularly hard on regulation, and perhaps there is no better place to complain about data than in Germany.
Eric Schmidt, who co-authored "The Age of AI," mentioned that you can gather more data in China or the US than you can here, and this is putting Europe at a disadvantage. In several business models, there is a German winner or French winner, but not a pan-European winner, and as European funds, we might get squeezed out by the US mega giants. Some people would say it doesn't matter where the capital is coming from as long as the jobs are being created here, but others are more concerned about ownership going to the US.  
Janette: Yet there are great advantages to the tech scene in Europe at the moment. 
Brent: For sure, there is the quality of the engineering talent as well as the research institutions, universities, and step-changing government funds. There is also a wealth of amazing corporates, and this is something we in Founders Factory and Founders Intelligence, as well as other firms, try to play to. The truth is that corporates can often give you validation. I also think that here we have the industries that will witness the most growth: Those where you'd want to ask for permission first and not forgiveness later, a reverse of the Uber model. I'm thinking about edtech, healthtech, and govtech.
The ecosystem is crucial as well. What inspired me personally was the MIT campus, especially the media lab and all the creativity that was bubbling around it. The other bit is learning from each other and helping each other scale fast. What's also changed here is that we now have serious serial entrepreneurs investing money back in businesses.
Janette: The AI campus is a good example of such an ecosystem. Founding your AI-enabled business is not just about having an idea. You'd need expertise in a certain industry. If you want to build an AI-enabled biotech business, there are regulatory affairs to consider. It's a completely different business model and that requires experts who are knowledgeable in their fields. On top of that, it helps if you have a physical space where you can find your first clients and these can literally be people who work right next to you.
Janette: Merantix and Founders Factory have a similar focus on venture building. In your opinion, what's a good structure for this in AI businesses?
Brent: We think a lot about the studio model and the venture-build model and who's doing it well and how. The hardest bit is avoiding negative selection bias. In other words, thinking about the reason why the best founders would choose to join you. How would the best founder shape that equity exchange? We have reduced the equity component and focused more on increasing value. We have our own AI experts who can help CTOs of our portfolio companies and this, for example, is how we help with the build.
In the current battle for talent, you also need to keep an eye out for culture. The best engineers in AI can get multi-million-dollar salaries from Big Tech. So, the question becomes how do you attract them? And I think some of that is just creating a culture where you have the best of the best. Once you hire a world leader in the tech space, world-leading talent will want to work for them. The problem is that in chasing speed, companies might accept average employees, while it's actually better to keep those small teams of geniuses together.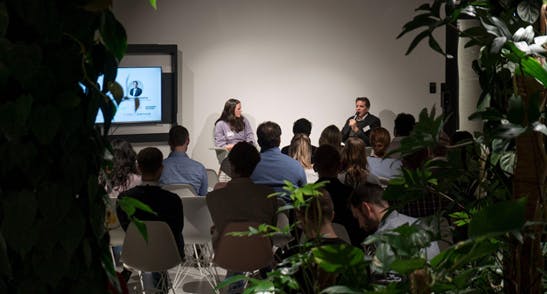 Janette & Brent answered a few questions from the audience about company building models and the type of founder they usually look for. 
Janette: When it comes to company building, the right word is "cycle." Models of company building are constantly evolving. We went for the studio model, and we truly believe that we can create synergies. Building an ecosystem and providing our clients with access to data. Having people who went through the journey. Having a culture that promotes mutual learning, where failing is ok and fast iteration is prevalent.
Brent: I think the studio model is getting more credibility while the single corporate accelerators are having a hard time attracting talent. One reason is that there isn't enough option value, and another is that you cannot take option value away from the entrepreneur. These single corporate accelerators need to work with more people and be more open to innovation.
As for the kind of founder we're looking for, we don't hold ourselves to experience. I always say: Rent experience, hire talent. You should ask yourself: who is the entrepreneur that will be a talent magnet? This person needs to be unhinged, have a passion that is out of the ordinary. They usually want to prove something. It's about looking for people who are extraordinary. It could be passion, charisma, or sheer intelligence - perhaps even an emotional intelligence and the ability to build a great team.
Janette: Finding the talent at the right moment is also a challenge, and we experience this on a daily basis when recruiting founders. It falls on the network, but it's also about building a brand so that if anyone in Europe wants to build AI, they think of Merantix.
And what about supporting funding in Germany? What do you think of KfW Capital launching the Future Fund? How do you feel about government investment?
Janette: A public fund isn't necessarily a good or bad thing. But this raises the question: What can the government do to help? Maybe it can get involved in education. Perhaps in every tech university, students should take an economics class, do an internship, or present a business case. This way the government encourages more founders to build new companies.
Where is the venture capital market going? There seems to be a bubble in which some companies are overvalued and that adds another element of risk. What do you think will happen next?
Brent: I can't see the future, but I can tell you this: There hasn't been a better time to raise money. Raise as much as you can right now.
A big picture question about the quality and value of innovation generally: Are you impressed with the quality of the ideas you're being pitched? Or is tech stuck in its world and not fixing real-world problems?
Brent: Innovation is accelerating tremendously. Take climate tech, for instance. Some didn't believe net-zero would ever be possible. Now it is because of technology. Where European countries can get better is by backing the proverbial crazy student in the dorm room because that's when people are the most creative.
The good news is that we have numerous R&Ds in Europe that are driving incredible innovation, using AI to fix real-world problems in life sciences, biotech, and beyond.
The Founders Forum Group
The Founders Forum Group includes firstminute capital: $300m seed fund backed by 111+ unicorn founders; Founders Factory: builds and scales technology start-ups solving global problems; Founders Intelligence: entrepreneur-powered consultancy, and Founders Keepers: An executive search firm that builds leadership teams for game-changing companies.